Sofa beds are versatile piece of furniture that serves multiple purposes. They can be used as a sofa during the day and a bed at night, making them perfect for small apartments, guest rooms, or homes that don't have an extra bedroom. While different types of sofa beds are available in the market, a wood-leg sofa bed is a classic option that never goes out of style. Here's a guide to help you buy the best one, and considering these factors, you will be able to choose the best wooden legs sofa bed for your home that will provide both comfort and style.
Size
Consider the size of the room where the sofa bed will be placed. Measure the space and ensure that the sofa bed fits comfortably in the room. Also, consider the size of the sofa bed when it's fully extended as a bed. If you have a larger room, you may want to choose a sofa with more substantial legs to help anchor the space.
Material
Wooden legs modern sofa beds are available in different materials, including Linen Fabric, PU Leather, Polyester Fabric, and non-woven Fabric. Linen Fabric with high-gauge sinuous spring is the most durable and long-lasting option, Further Look for solid wood legs made from high-quality materials such as oak, walnut, maple, or cherry. These woods are known for their durability and can withstand the weight of the sofa bed.
Style and Look
Consider the design of the sofa bed and whether it matches the style of your home, if you have young children or pets, you may want to choose a sofa with wooden legs that are sturdy and less likely to tip over. You may also want to choose a darker wood finish that is less likely to show scratches or wear and tear. Don't forget to look at the leg design that complements the style of your sofa bed. For example, if your sofa bed has a modern design, look for legs with clean lines and a sleek finish. If it has a traditional design, consider legs with ornate details.
Comfort
The sofa bed should be comfortable to sit and sleep on. For maximum comfort, look for sofa beds with high-density foam or memory foam mattresses. Several types of mattresses are available for sofa beds in the market, including innerspring, memory foam, and air mattresses. Consider the level of comfort and support you need and choose a mattress that meets your requirements.
Frame and mechanism
The frame and mechanism of the sofa bed should be sturdy and easy to use. Test the mechanism and make sure the sofa's back tilts are folded easily at different angles to convert the sofa into a bed and back again for reading, watching TV, lounging, or sleeping. Consider branded sofa beds like Yaheetech modern sofa beds that offer different varieties in styles, sizes, and colors. Some of their sofa beds are designed for small spaces and can be easily converted from a sofa to a bed.
Upholstery
Consider the color and texture of the upholstery and whether it matches your home decor. The upholstery of the sofa bed should be durable and easy to clean. As different fabrics may require different cleaning methods. If you're unsure about how to clean your sofa bed, consult the manufacturer's instructions or a professional upholstery cleaner.
Price
Wooden legs sofa beds can range from budget-friendly to high-end options. Consider your budget and look for a sofa bed that fits within your price range. The price of a sofa bed can vary widely depending on several factors, including the size, type of mattress, upholstery material, and brand.
Reviews
Before purchasing a wooden leg sofa bed, read reviews online to see what other customers have to say about their experience with the product to get an idea of the quality, comfort, and durability of different models. Reading both positive and negative reviews will give you a well-rounded idea of the sofa bed's strengths and weaknesses.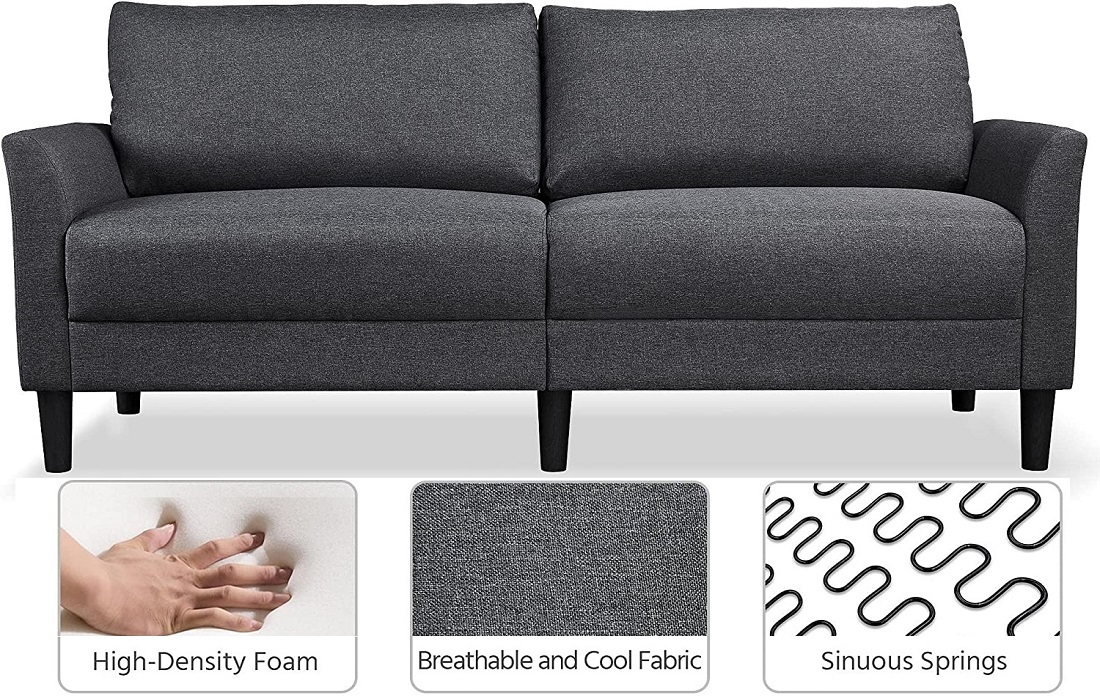 Yaheetech Modern Sofa Bed
Yaheetech's modern sofa beds come in different styles, sizes, and colors. They are designed to be functional and comfortable, providing a convenient solution for guests or those with limited living space and Yaheetech's modern sofa beds are designed to provide comfort both as a sofa and as a bed. The cushions are usually made of high-density foam or memory foam, and the upholstery is typically made of a durable and soft material such as linen or velvet.
Yaheetech is a cross-border e-commerce company established in 2003 with more than 500 employees worldwide. With our own 39 warehouses around the world, we provide a wide range of products with fast delivery to millions of customers in more than 10 countries, available on Amazon, Walmart, eBay, Wayfair, Wish, Cdiscount, ManoMano, OTTO, Rakuten, Real and more. We devote ourselves to making your life comfortable.