Greece is a land of beauty, culture, and history, making it an ideal vacation destination for those seeking to explore the wonders of the Mediterranean. Whether you're looking for sun-kissed beaches or cultural sites steeped in mythology, Greece has something special waiting around every corner, meaning there's never a dull moment when visiting this beautiful country. So if you're looking for an unforgettable holiday experience full of adventure and discovery, look no further than Greece! In this article, we're going to look at just some of the reasons why this European destination continues to draw tourists from around the world, so let's dive right in!
A History Lover's Dream
Traveling to Greece is a dream for history lovers. Not only does the country have one of the oldest civilizations in the world, but it also boasts a living and vibrant culture that celebrates the past. From ancient ruins like the Acropolis and Parthenon to bustling cities like Athens and Thessaloniki, Greece offers something for those looking to discover what life was like thousands of years ago.
Whether you choose to visit on your own, or as part of something like one of these Greece vacation packages, you will have plenty of opportunities to immerse yourself in the past. Guided tours are a great way to explore Greece's ancient sites and explore its history in depth. Professional tour guides will be able to provide insight into the culture, architecture, and mythology that makes this country so special and really bring the history to life.
Mamma Mia!
Greece is a paradise for vacationers, and it's also the stunning backdrop for one of the most beloved movie musicals of all time: Mamma Mia! With outdoor scenes filmed on the beautiful Greek island of Skopelos, this feel-good movie follows Sophie as she discovers her mother's past while in search of her father. The breathtaking scenery and idyllic beaches of the island provided perfect backdrops for the movie, and visitors can take a trip to some of the iconic locations that make the movie so magical.
The Chapel of St. John is a beautiful little chapel that is featured in the movie. Located on Skopelos, this chapel was originally built in the late 1400's and pays homage to Saint John the Baptist. Its unique beauty makes it a popular tourist spot for fans of Mamma Mia! But even if you haven't seen the film, you will still be able to appreciate its beauty and Skopelos as a whole.
Food Glorious Food
Greece is known for its flavorful and delicious cuisine that has been passed down through generations. Greek food is renowned for its freshness, flavor, and presentation. Popular dishes like moussaka, gyro sandwiches, fresh seafood, and tzatziki are just a few of the many delectable dishes visitors can enjoy while on vacation in Greece. Many restaurants in Greece are run by families, and they take pride in offering their guests an incredible culinary experience.
Greek restaurants are renowned for their live entertainment and traditional music. At many dining establishments, guests will be treated to the sound of upbeat bouzouki music that is often accompanied by Greek folk dancing, singing, and theater performances. Traditional tavernas are also great places to experience a taste of the real Greek culture. Tavernas offer ouzo, a traditional Greek spirit made from aniseed, along with mezedes (or appetizers) such as saganaki cheese, dolmades, and tzatziki, to keep patrons fed and happy.
World-Renowned Beaches
Sun worshippers will find themselves truly spoiled in Greece, which boasts a vast array of incredible beaches which are famed for their beauty and serenity. Travelers can experience multi-hued sands in shades of pink, white, and gold stretching as far as the eye can see, with crystal-clear waters beckoning them to take a dip. At night, visitors can experience the awe-inspiring beauty of a Mediterranean sunset. The intense shades of orange and pink that linger in the evening sky will take your breath away as you sit mesmerized on the beach.
In addition to relaxing, Greece is also home to a number of thrilling watersports activities. For those looking for an adrenaline rush, jet skiing and kite surfing are popular options. Jet skiing is an ideal choice for thrill seekers, as powerful machines can reach speeds up to 50 mph! For nature lovers, the Greek Islands are a haven for snorkeling enthusiasts, offering unparalleled access to some of the most stunning underwater life. From sea turtles and rays to vibrant coral formations, snorkelers can explore a vibrant array of marine life in their own personal paradise. Not only that, but the ultra-clear waters provide excellent visibility, ensuring that nothing is missed!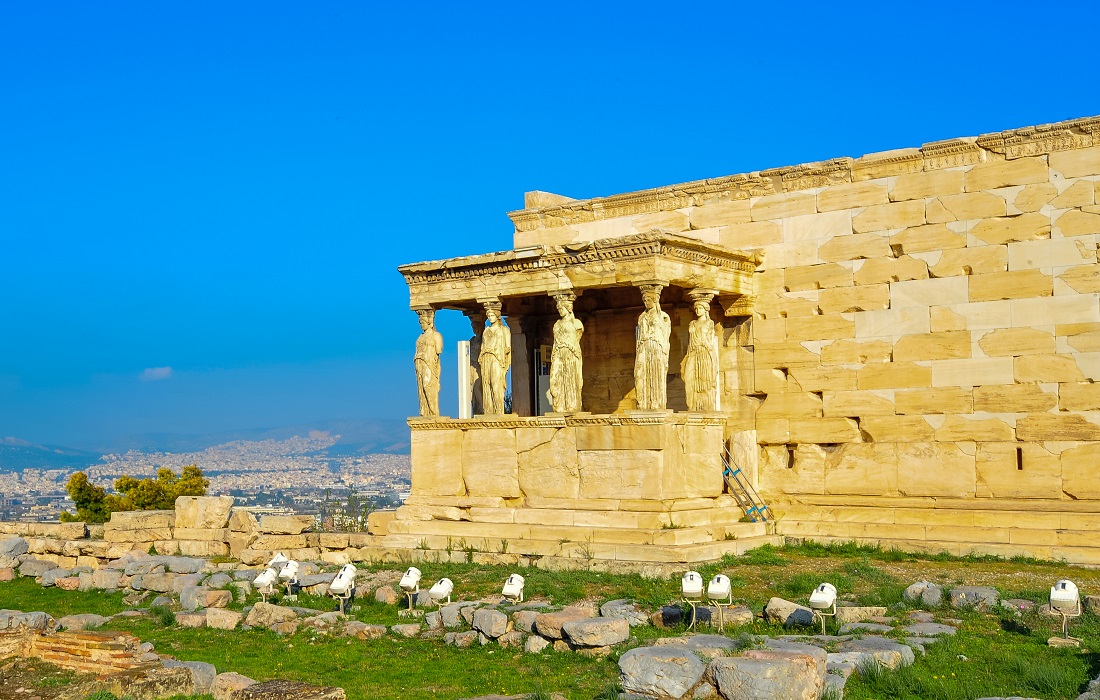 Final Thoughts
Greece is a beautiful country that has so much to offer for any type of traveler. From sun-soaked beaches, incredible ancient ruins and monuments, delicious food, unique culture, and friendly locals; Greece truly offers something for everyone. Whether you are looking for an adventure or just want to relax in the Greek sunshine – there's no better place to do so! So, if you're ready to explore this amazing destination, book your trip now and get ready to experience all that Greece has to offer!