Many of us have the habit of eating, working, or playing games on the couch in search of a cozy and relaxing experience. However, because most normal coffee tables are set at a relatively low height, it can be difficult to get the best experience, especially for tall men and women. As a result, you may need a lift-top coffee table to get rid of the embarrassment of eating on the couch with your plate or working long hours with your back strained. By adjusting the height, you can do different activities in the optimal position.
The benefits of a lift-up coffee table don't stop there, it always comes with reasonable storage space to help you keep odds and ends out of sight and create order from chaos. Furthermore, for small living rooms or apartments such as bethany square apartments bethany ok, this type of table can help you make the most of your space. Lift coffee tables are always made from similar materials and have the same design as traditional coffee tables, allowing them to blend in perfectly with your living room style. After learning about these perks of the lift coffee table, this article will go over how to pick a lift table that best suits you in terms of lifting function, material, design, and price.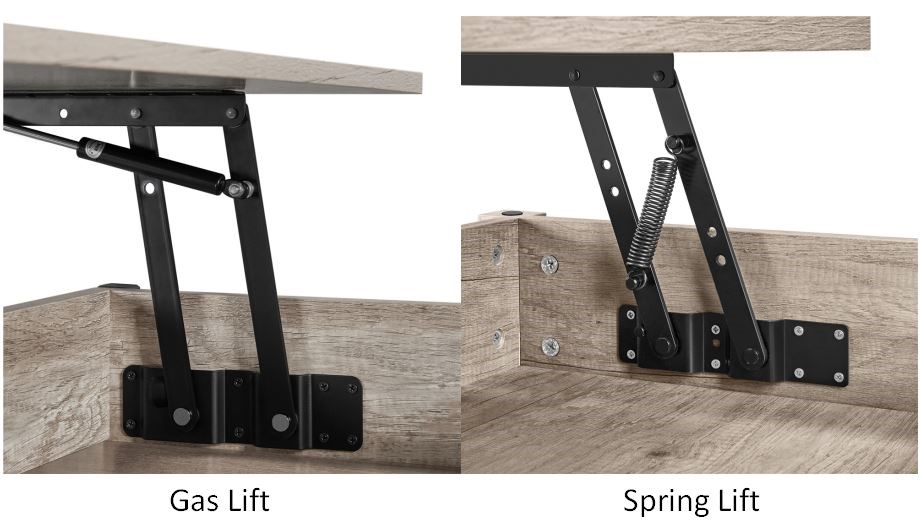 Lift Function
Most lift coffee tables adopt a manual, metal lift system to achieve an elevated surface. The iron or steel hinges ensure outstanding stability for a variety of activities and long-term durability. While there is a difference in the use of lifting mechanisms, gas lift, and spring lift mechanisms are the two types that are most commonly used. Generally speaking, a lift system with a gas lift will raise and lower the tabletop more smoothly and quietly. But the spring mechanism may be hard to use and noisy when closing.
When talking about adjustable height, there are two kinds of lift coffee tables popular on the market, one that can be adjusted to multiple positions, and the other that can only be adjusted up and down. If you want more flexibility, go with the one that can be locked at several heights. The maximum desk height (from tabletop to the ground) of lift top coffee tables is 24-26 inches, with a few having a higher table around 27-28 inches.
In terms of direction, the table will usually lean forward when lifting up. Some lift tables can be pushed to either the left or right side.
Material
The vast majority of pop-up coffee tables are crafted from manufactured wood or a combination of solid wood and engineered wood for sturdy construction, as well as a classic coffee table look. Some will inject metal materials into the frame to improve stability and give the piece a more industrial feel. Others may mix wood materials with glass, wicker elements to create a completely different look. Choose a wood lift top coffee table or one that combines wood with other elements based on your interior style and daily usage habits.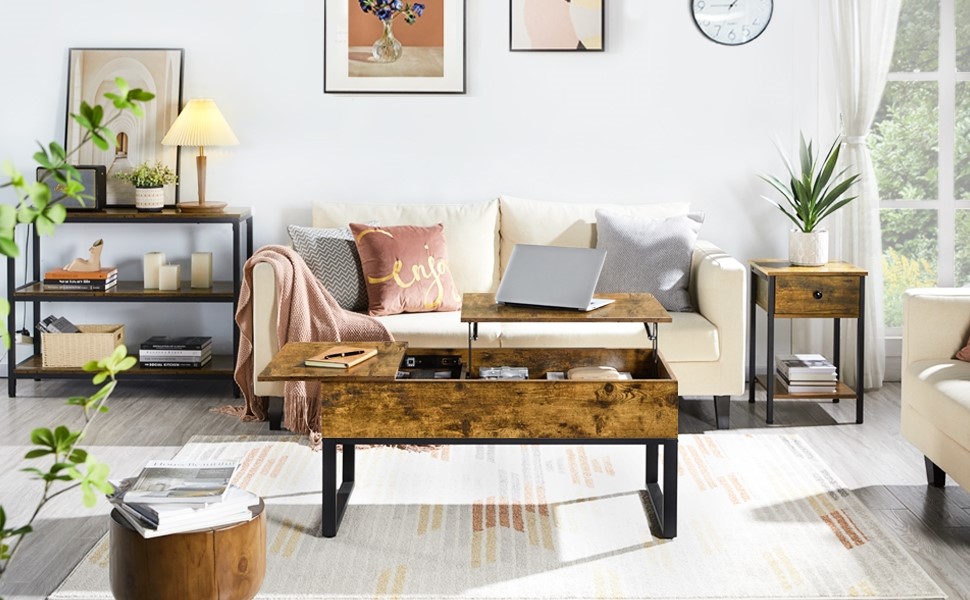 Design & Style
Many pop-up coffee tables are rectangular or square in shape, while some are round. The coffee table shape is determined by the size of your living room and the type of sofa you have. Rectangular coffee tables are appropriate for a 3-4 seat couch or L-shaped sectional, whereas square and round are more applicable for small living rooms or a U-shaped sectional.
Coffee tables with lift tops are available in a variety of styles, including modern, contemporary, rustic/industrial, farmhouse, boho, etc. You can pick the one that complements the rest of your living room furniture.
Cost
How much should you spend on the lift-top coffee table? After searching different lift coffee tables on Amazon, more than half of lift coffee tables are priced between $80-$200, but if you fancy a lift table entirely made of solid wood (such as mango wood, pinewood, Acacia), you may have to pay more than $300. You can purchase one that matches your preferred style and budget.
Yaheetech Modern Lift Coffee Table
https://www.yaheetech.shop/products/modern-lift-top-coffee-table
Yaheetech's lift coffee table collection covers a wide range of styles, sizes, and designs that are affordable to most of you. This article's selection is a wooden coffee table with a lift design and compact size, very suitable for small spaces. The table can be easily elevated from 19.2" to 24.6", turning this piece from a decent coffee table to a comfortable dining table or a temporary workspace. Founded atop four tapered solid wood legs, this piece is crafted with a CARB Phase 2-certified main body frame to offer a firm feel and safe user experience. What about storage space? It comes with a roomy out-of-sight storage compartment and three open cubbies. Moreover, this modern lift coffee table is simple in shape and chic in color (dark walnut) that can perfectly be compatible with your room style and décor.
Conclusion
To many of us, the living room is the most important space in a house and we hope that it can accommodate our diverse needs. A lift coffee table is a great helper because it creates a multipurpose work surface while providing ample storage for living room essentials. By contemplating the points mentioned in this article, you can more confidently choose the best lift-top coffee table.